Subscribe to our newsletter
Promotions, new products and sales. Directly to your inbox.
How the axes are made?
Skilled craftsmen
Our team consists of a select few people who have years of experience in the business. Our main priority is to maintain the highest possible standards of quality for our products.
Unique designs
All of our designs are inspired by artwork from Norse and Perun history. Many of them are based on from actual historical patterns and designs that have been found in Scandinavia.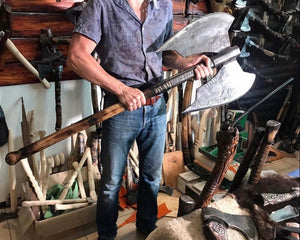 Why Buy From Us?
- All of our items are Handmade including the axe heads being Hand Forged from high quality steel. No pre-bought, cheaply made parts.
- All orders are provided with Trackable Worldwide Shipping.
- Daily Customer support via Email, Facebook & Instagram Chat. We aim to answer all queries within 24 hours.
- With the entire manufacturing process being under our control we can accept a wide range of Custom Orders with very few limits on the design.
- We always aim for Customer Satisfaction, If you are not pleased with the order it is possible to return it for a full refund.
Our Mission
Our goal is to provide authentic, high quality, hand forged products that are made using the traditional methods to Viking lovers and resellers from around the world. We have made axes for many customers in different countries and supply our products to numerous other Viking Stores. Help us keep the Norse culture alive by supporting our work!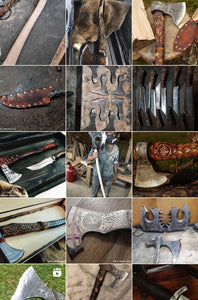 Follow Us On Instagram
We post daily photos of the latest projects that we are working on and the progress of orders that have been made by our customers.
Tag us on instagram with @vikingarmoury to have your photo featured in our Happy Customers section.
Happy Customers