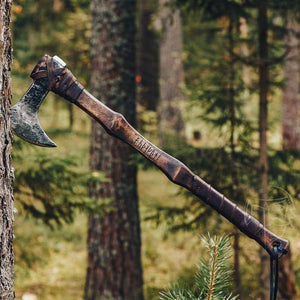 Top 3 Gifts for Vikings Fans
Finding gifts can be tough, especially if you are looking for someone who keeps to the old ways. For modern Vikings a shiny new pair of shoes just isn't going to cut it. Here are our top 3 gift ideas for people who love Vikings:
1. Odin + Helm of Awe Axe from VikingStyle
This is a beautifully crafted axe with engraving on both the head and handle. The Axe features the famous 'Helm of awe' and 'Mjolnir' symbols which are so often present in ancient norse artwork. All of the axes from VikingStyle are sharp and fully functional making this a perfect gift for your modern Viking.
2. Personalised Drinking Horn from AleHorn
Alehorn have a great range of Viking driking horns which are perfect to enjoy a cold drink of mead whilst watching the new season of the show. They have a great track record of delivering quality products to their customers and will certainly not dissapoint. To make it even better all of their products are customizable and can be engraved with personalised runes of pictures.
3. Aegishjalmr Axe from VikingArmoury
Here at Viking Armoury we pride ourselves on offering the highest quality of products. All of our products can be customised with personalised rune engravings and symbols. All axes are handmade and battle ready, you cannot go wrong with a personalised Viking Axe!
---